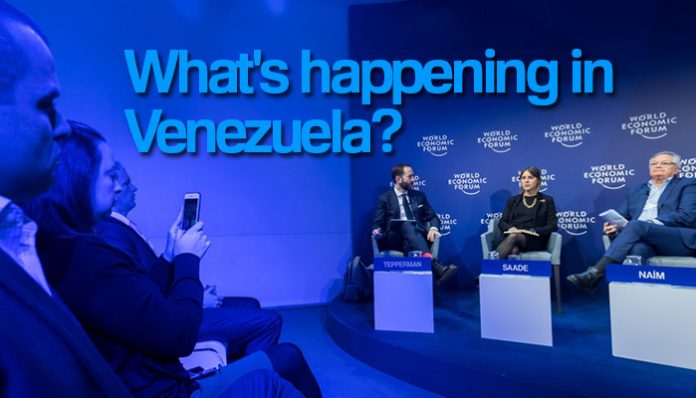 Venezuela has been in a state of deepening economic and humanitarian crisis for several years.
Last week, Venezuela's Congress declared President Nicolás Maduro
illegitimate, and there were mass protests and violence across the country.
On January 23, opposition leader Juan Guaido declared himself President, and US President Donald Trump endorsed this declaration, as did Canada and a slew of countries in Latin America.
Experts met in Davos the day after these events to discuss the implications and the paths forward for the troubled country.
This isn't the first time such a stand-off has happened, and the first question to be discussed was whether this time will be different. According to Venezuelan social entrepreneur Gabriela Saade, it will:
The key to whether it will be different lies with the military, according to Harvard Professor Ricardo Hausmann:
"Right now you have an elected institutional power that has made some decisions on how to bring the country back to democracy. Secondly, you have major international support for the return of that country to democracy by an interim President. Thirdly you have massive popular support of that process. And fourth, you have a well specified, presented and discussed economic and social plan to deal with the humanitarian crisis, to recover the economy, and to stop hyperinflation," he said.
"The only thing that remains is for the armed forces to realise that they can't use the coercive power of the state to prevent this process from happening. So surely there is a scenario where the armed forces say it is too costly to us to maintain Maduro in power, given this coalition of forces and given this hope that Venezuelans have that there is a better alternative to this current reality. Why don't the armed forces just tell Maduro to leave?"
Venezuelan columnist and global affairs expert Moisés Naím responded by agreeing this was one scenario, noting signs that the opposition leader was reaching out to the military:
However, Naim pointed out that while Professor Hausmann's list of influential factors was correct: "There are other actors that matter."
"Cuba, Russia, Iran, China, they are players and… not all in the international community are friends of Venezuelan democracy."
"Guys with guns" will determine the future of Venezuela, added Naím. "There is no doubt that the actions of guys with guns will have a big impact on affairs in Venezuela. But it is important to remember that guys with guns in Venezuela does not only include the military. It has the ELN and FARC. Venezuela is a criminalized country – it is rife with bands and gangs."
The question of US military intervention was raised. When asked about this, José Valencia, the Foreign Minister of Ecuador was unequivocal: