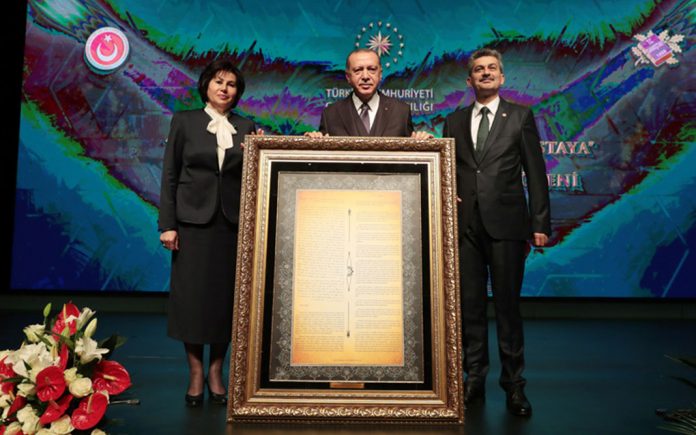 President Recep Tayyip Erdoğan addressed a symposium held on the occasion of the 150th anniversary of the Council of State.
Speaking at a symposium marking the 150th anniversary of the Council of State, President Erdoğan, with regard to the killing of Saudi Journalist Jamal Khashoggi, said: "We are determined to not allow the murder to be covered up and the perpetrators, from those who gave the order to those who executed it, to be shielded from justice. That is our duty not only to the late Khashoggi, who was brutally murdered, but also to the international community."
"THE PRESIDENTIAL SYSTEM OF GOVERNMENT IS ONE OF THE MOST IMPORTANT REFORMS EVER UNDERTAKEN IN TURKEY"
Recalling that Turkey switched to a new system of government with the June 24 elections and thus entered a new course, President Erdoğan said: "This new system, which we took the first step of with the April 16 referendum and put into effect with the June 24 elections, is called the Presidential System of Government. This system is one of the most important reforms ever undertaken in Turkey amid government system discussions that the Council of State has witnessed firsthand throughout its 150-year history."
Describing the switch from the parliamentary system of government to the presidential one, on which he said the people put their stamp with their freewill, as the expression of a new phase in Turkey's journey of democracy, President Erdoğan stated that Turkey thus got rid of the tutelage that had taken Turkey hostage for long years, taking a historic step forward on the road to transitioning to true democracy.
ON THE JAMAL KHASHOGGI MURDER: "WE ARE DETERMINED TO NOT ALLOW THE MURDER TO BE COVERED UP"
Speaking at a symposium marking the 150th anniversary of the Council of State, President Erdoğan, with regard to the killing of Saudi Journalist Jamal Khashoggi, said: "We are determined to not allow the murder to be covered up and the perpetrators, from those who gave the order to those who executed it, to be shielded from justice. That is our duty not only to the late Khashoggi, who was brutally murdered, but also to the international community."
Turkey endeavors for justice to be served, underlined President Erdoğan, adding: "As we find new evidences that would shed light on the unclear aspects of the murder, we will continue to share them with our counterparts in a transparent manner."